Cold. Free PowerPoint template and theme for Google Slides and Keynote.
Download this template for your presentation.
Decorative and elegant artistic design to present works, papers or projects related to the environment, nature, melting ice, climate change, ecology or the state of the oceans.
Designed with an elegant, soft, harmonious style, with a very careful and elegant format. Very easy to use and modify to your liking. Enjoy it!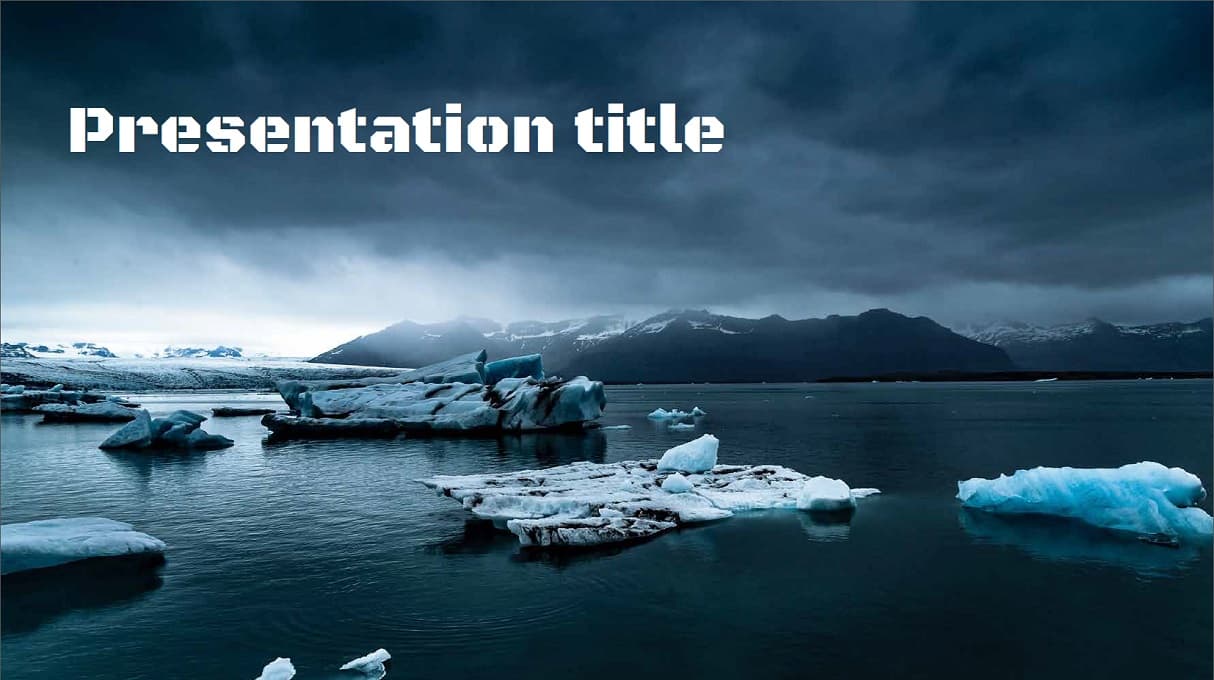 Template for ecology, environment and nature presentations.
This template is intended for people from professions related to ecology, nature or climate change, but also to present data on pollution or the state of natural ecosystems. It is designed for teachers and students of science or professionals in natural environments:
Submit a work of ecology, nature or mecioenvironment in power point, Keynote or Google Slides.
To carry out in an orderly manner the exhibition of a project or work in any area of nature and the ecosystem of the planet or the seas and oceans.
Present the key ideas about an ecological project, a professional or scientific academic subject.
To present in a visual and attractive way a work of environment and ecology.
Attract students' attention when a teacher needs to talk about science in general or a particular concept.
Make a presentation in Power point, Keynote or Google Slides in a pleasant, attractive and elegant way.
This presentation is included within the presentations of the natural area, ecology or environment. Made in pastel shades, soft and harmonious. Designed for professionals, teachers and students.
Enjoy your next presentation with the free template "COLD" from slidesforeducation.com and enjoy sharing your knowledge.
And if this presentation is not what you were looking for remember that in slidesforeducation we have hundreds of presentations that can fit what you are looking for.
Features of this free environment and ecology template:
The template is fully editable. You can modify it as you like, create and add your own content, change colors, backgrounds and images.
31 slides to enjoy and create the best presentation.
126 editable icons, maps, balloons, computer graphics and fully editable in size and color to bring your presentations to life.
Elegant template design where pastel,  soft blue, white and elegant tones.
Panoramic format 16:9.
A lot of free resources included: graphs, maps, icons, diagrams and tables.
Template designed to be used in Microsoft PowerPoint, Keynote o Google Slides.
This is what the template you are going to download looks like